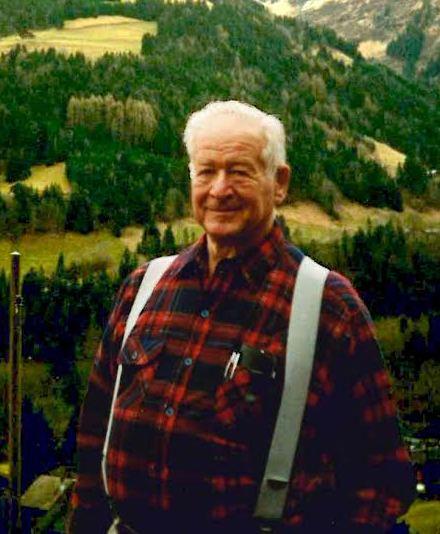 In Memory of
Theodore Beckhardt
1923 - 2017
Obituary of Theodore Beckhardt
Theodore Beckhardt , 93
Awarded World War II Purple Heart
Long time resident of Hunterdon County, Theodore Beckhardt, age 93, passed away peacefully on May 5th. Ted will be missed by his family and friends who enjoyed his company and appreciation for the life he created in New Jersey. He was widowed in 1989 by the late Constance Cobert Beckhardt, with whom he led a full life as leaders of the German Shepherd Dog Club of America and Northern NJ German Shepherd Dog Club. Together, Ted and Connie, bred and raised many award winning German Shepherds in the Cobert Kennels, Flemington, NJ, and were recognized as outstanding breeders in the field.
Born in Frankfurt, Germany, Ted was forced to leave his home in 1938 at the age of 15 and emigrated to the United States with his parents Adolf and Else and sister Hildi. He lived in New York City for several years and then joined relatives in Colorado where he attended high school and entered college. Ted subsequently joined the military and was assigned to the 10th Mountain Division. He saw active duty in Europe and was badly injured fighting the Germans in the Alps. For his courage and contribution to the war effort Ted was awarded the Purple Heart.
Ted spent most of his career as an expert in rare porcelain antiques working as an executive for Christie's and proprietor of The Art Exchange in New York City. He was very close with Elly Beckhardt, his Aunt, who also owned an antique shop called the Beckhardt Gallery on the Upper East Side. During his time in New York he was an avid fan of the Rangers Hockey Team and loved to play tennis. He subsequently moved to New Jersey and developed an interest in raising award winning German Shepherds.
During his later years Ted loved spending time with friends at the local senior centers in Hunterdon County New Jersey. He was very active attending classes, participating in committees and traveling. He was predeceased by his parents, sister and wife. Ted's surviving family, Cousins Charles, Michael and Stephanie Apt, and Niece Audrey Kubie, will forever cherish his memory and legacy of their Beckhardt family history in Germany.
There will be a Memorial Service between 10-11:30am on Saturday, May 20th, at the Martin Funeral Home, 1761 Rte 31, Clinton, NJ. Followed by a gathering to celebrate Ted's life.
1761 State Route 31
Clinton, NJ 08809
Phone: (908) 735-7180
Christopher Knoll - Manager, NJ License Number: 4460
Martin Funeral Home proudly serves Clinton NJ and the following surrounding communities of: Clinton Twp, Annandale, Lebanon, Lebanon Twp, Glen Gardner, Tewksbury, Flemington,
Raritan Twp, Readington, Alexandria Twp, Pittstown, Delaware Twp, Asbury and Hampton New Jersey