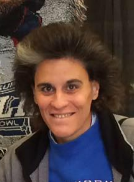 In Memory of
Barbara Ann Jirouschek
1968 - 2017
Obituary of Barbara Jirouschek
Barbara Ann Jirouschek, age 48, of Washington, NJ, died peacefully on Sunday, February 12, 2017, at home. Barb was born May 29, 1968 in Point Pleasant, NJ. She is the daughter Ed Jirouschek of Hillborough, NJ and Gloria Jirouschek of Newark, DE.
Barbara grew up in several towns in NJ. She began life near the beach in Bricktown. Later she lived in Piscataway, NJ where she met many friends and neighbors who would become family. She then moved to Califon, NJ where she would attend Voorhees High School and graduate with the class of 1986. She marched in the band and made many lifelong friends. In Califon, she was part of the founding of St. John Neumann Roman Catholic church where she would make her confirmation and grow in her faith. She would sing in the choir for holiday masses again making lifelong friends.
Barbara worked at the A&P in Califon, and afterwards at A M Best in Oldwick, NJ. She went to Raritan Valley Community College to graduate with an Associates Degree with Distinguished Honors in Paralegal Studies. She most recently worked for the law firm of Apruzzese, McDermott, Mastro & Murphy, PC.
Surviving Barbara are her parents, Gloria and Ed and his wife Leslie Jirouschek, her sister Janet, brother-in-law, Jeff Zegna and their children Meghann Barber and Nicholas (godson), her brothers Michael and Thomas and his son Anthony Craig. She has also left her Aunt Verna and Uncle John DeBernardis, her Aunt Carol (godmother) and Uncle John Lowsky, and her Aunt Marge Walker, numerous cousins and lifelong friends.
Barbara had many interests throughout her life. She dabbled in playing musical instruments playing her guitar for herself. She loved biking, especially when at the beach. She painted, most recently working with glass painting. She also recently began taking photos, but only with her iPhone (her words). Of all of the things Barbara took joy in was being a caregiver. She loved babies and was godmother to many. She loved spending time with seniors, most notably her grandmother Caroline Ottuso. She was a genuine, loving soul who touched so many hearts.
Relatives and friends may gather to pay their respects on Sunday February 19, 2017 from 2:00pm until 5:00pm at the Martin Funeral Home, 1761 Route 31, Clinton NJ 08809. A Roman Catholic mass will be offered on Monday February 20th, at 10:30am at St. John Neumann Church, 398 County Road 513, Califon, New Jersey. Burial will be private at Immaculate Conception Cemetery, Clinton, NJ.
In Lieu of flowers donations in honor of Barbara may be made through, IN MEMORY OF for the Alzheimer's Association at www.inmemoryof-memorial.org
1761 State Route 31
Clinton, NJ 08809
Phone: (908) 735-7180
Christopher Knoll - Manager, NJ License Number: 4460
Martin Funeral Home proudly serves Clinton NJ and the following surrounding communities of: Clinton Twp, Annandale, Lebanon, Lebanon Twp, Glen Gardner, Tewksbury, Flemington,
Raritan Twp, Readington, Alexandria Twp, Pittstown, Delaware Twp, Asbury and Hampton New Jersey