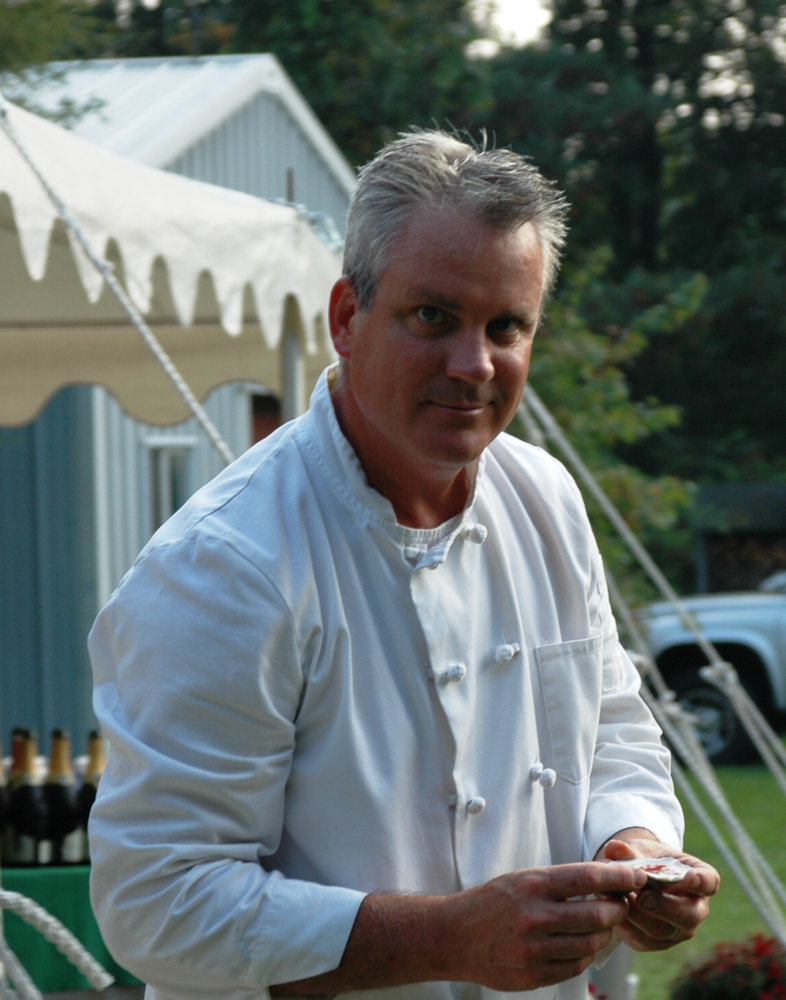 In Memory of
Craig D. Laskey
1962 - 2017
Obituary of Craig Laskey
CRAIG D, LASKEY - CLINTON - Craig D. Laskey, 55, passed on Tuesday, October 31, at home surrounded by his family, after a short battle with melanoma. Born on March 13, 1962, he was the son of Gael Laskey Graham, and the late Donald Laskey. He was educated in local schools and graduated from North Hunterdon Regional High School. He graduated from Johnson and Wales Culinary School in Providence, Rhode Island and the Florida International University in Miami. He was an award winning chef, and was the former owner of KC Catering in Flemington. He was a business owner, a construction contractor skilled at wood working, and caterer to many local events including the Annual Senior Appreciation Lunch in Clinton.
Craig was larger than life. From his youth on Hadler Drive and the basketball court at North Hunterdon High School, to his days at the Ryland Inn and running KC Catering, his positive energy and competitive spirit were infectious. His culinary skills were amazing and his business sense acute. His talents were so great that when he sold his catering business, he became a successful full-time contractor. He wowed customers (and their friends) by tiling the bathroom and then catering their dinner afterwards! Friends cherished Craig as the man they could count on for anything; he was always the genial voice of reason who offered help andsupport at all times.
Family was everything to Craig. He was devoted to his wife, Karen, and his boys, Hogan and Declan. Many a weeknight and weekend was spent attending or coaching sporting events, cooking together, working together, or just relaxing and having fun together. With a contagious smile and sense of humor that brought out the best in everyone around him, he lived life to the fullest. A sports enthusiast, he enjoyed watching the NY Giants and cheering on his two boys playing football, basketball, and lacrosse. He was an honorary Coach of the Year for the Clinton Township Rec Basketball; he'll be remembered as the tough coach who grew a beard and dressed up for the championship game - for good luck! Hogan and Declan played for the Hunterdon Huskies and Craig became a key volunteer for the organization and he never stopped. Even this season, with both boys away at college, Craig was whipping up food for the snack shack and working on the chain gang. He had a passion for fishing from Upstate New York to the Florida Keys. He also enjoyed golfing, and music, and had an uncanny ability to name the artist and title to every classic rock song. He cherished his time spent with family whether hosting Sunday dinners, celebrating Saint Patrick's Day, or annual trips to Maine.
In addition to his mother, Gael, his step-father, Jim Graham, he leaves his wife of 22 years, Karen Dahme Laskey, his two sons, Hogan and Declan, his four brothers, Chris and Linda Laskey, David Laskey, Steven and Nancy Laskey, Jimmy Laskey and Phyllis Minicuci, many nieces and nephews, and countless friends.
A Celebration of Craig's life will be offered Sunday, November 5th at 1:00 p.m., at the Stanton Reformed Church, 1 Stanton Mountain Road, Stanton NJ 08885. In lieu of flowers, donations may be made to Hunterdon Huskies Football, HBAA, P.O. Box 550, Annandale NJ 08801.
For further information or to send condolences to the family please visit www.martinfh.com
1761 State Route 31
Clinton, NJ 08809
Phone: (908) 735-7180
Christopher Knoll - Manager, NJ License Number: 4460
Martin Funeral Home proudly serves Clinton NJ and the following surrounding communities of: Clinton Twp, Annandale, Lebanon, Lebanon Twp, Glen Gardner, Tewksbury, Flemington,
Raritan Twp, Readington, Alexandria Twp, Pittstown, Delaware Twp, Asbury and Hampton New Jersey